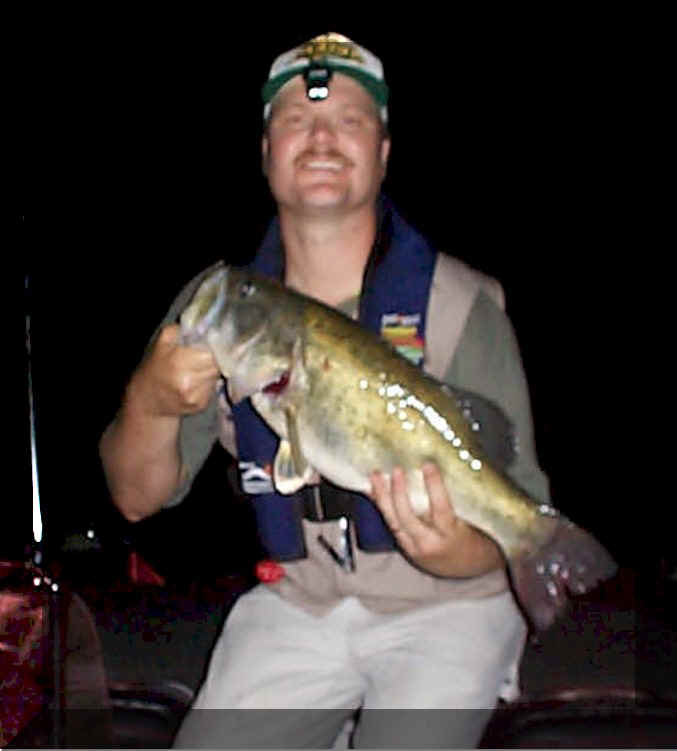 The Sc
ientific Angler
Night Fishing Basics
By Ritch Taylor
Intro
I am so tired of this hot, hot, hot, Texas weather. Have you ever said those words? Well don't fret. Nighttime can be the right time to intercept those "Mucho Grande" Bass, especially in North Texas. However, night fishing for bass can be made easy or it can be made difficult. Ever find yourself stumbling around the boat in the dark only to get caught in the net and fall down. Over the years many innovations in bass fishing have come along that make night fishing easy, fun, and very enjoyable.
The Necessities
Every bass angler needs 20 tackle boxes, 10 rain suits, 200 spools of line, 2 billion hooks, and a plethora of weights. Yes, we go prepared. But, how can we go prepared to fish for bass at night?
For one thing fishing at night requires light. A light for your cap, a light to see stumps, a light to see your line, a light to help weigh and measure those hefty bass, and a light to see the houseboat you are about to explode through. To start, which took me years to do, go to a nearby store and purchase you a clip on hat light. Sure, you may have to spend up to $10 but isn't that worth the $100 rod you are about to step on and break. Not to mention the difficulty of tying on baits in the dark. Clip it on you hat, belt, or pocket and you have at the ready a perfect light for all those tedious nighttime fishing activities that are so easy during the day. Not only will you be able to see the tree but you'll see the snake climbing into your boat.
Next, please go and purchase a good quality 1,000,000-candle power spotlight. This is a must because some boats, in particular houseboats, have poor lighting at night and I know of a
To be completed in June
God Bless and keep a wet hook.
Ritch Taylor